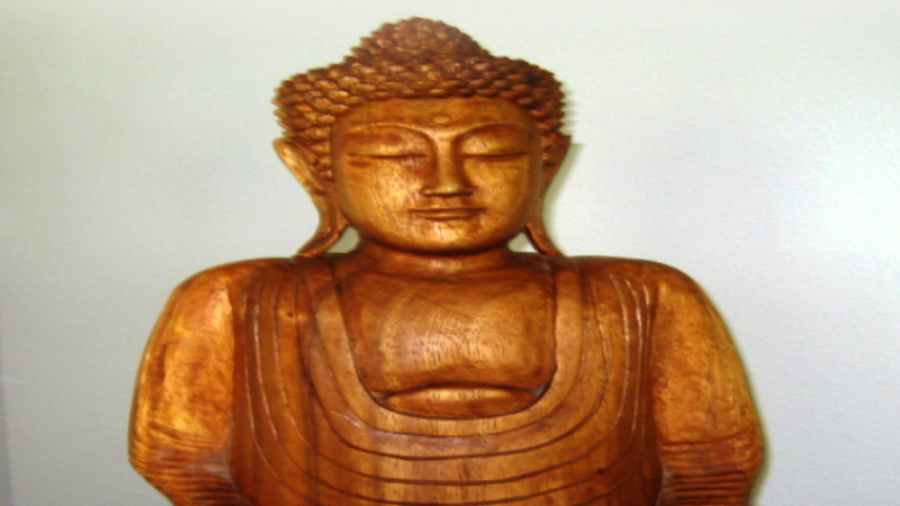 On Wednesday, 13th March 2013 I purchased a statue of Buddha carved out of wood from Body, Mind & Soul in Houston. The moment I saw it I knew I had to have it. From the first moment I placed the statue on a corner table in my living room I have been seeing a white energy emanating from the entire statue. Furthermore I have also been seeing a complete replica of the statue in energy form floating around my living room.
On Saturday, 16th March 2013 while I was putting a DVD on my television I suddenly felt the presence of someone behind me where the statue was and when I turned around I had a vision of an adult male in a medium gray suit. The second I saw him he vanished.  
On Sunday, 17th March 2013 while I was in the middle of a reading I saw an image of a male spirit crouched right in front of the table where the statue was placed. I am not sure if the spirit was a child or an adult because the vision was so brief, almost like it flashed at me. I saw that he was wearing a bright red jacket and bright yellow trousers. Later on in the reading I saw the same vision again only this time it was the bright red jacket that stood out and it was so brief that I did not notice anything else. I also heard the name 'Tu'Am'.
Just before I went to bed and was turning off the lights I looked at the statue and had an overwhelming desire to go over there and give it a hug! Whilst I found that rather strange I did it and when I hugged the statue I started to cry as I do now as I am writing about this.
I feel I was meant to have the statue the moment I saw it. I have since seen the Buddha's face smile at me and I feel very strongly there was a reason that I had to buy it. The statue is definitely significant and the reason was to release a trapped spirit from it.  The male I saw in a gray suit was an Angel.
Copyright @ Cynthia A. Silk 2023.  All Rights Reserved.