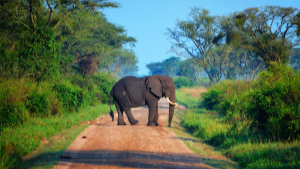 Among the many animals included in the divine animals group are the industrious elephants and I am so happy to finally write about them.  They were also placed here by divine source for a specific purpose.
Elephants are a highly intelligent species who have a significant role in our planet's ecosystems and that is to generate a viable environment that enables other wildlife to coexist with them.  Due to their large size they automatically create large spaces while traversing impenetrable dense forests leaving paths for other animals to use.  Elephants are able to detect water when found underground using their trunks.  Then they use their tusks to dig for water subsequently creating new water holes for all creatures.
Not only do elephants have a very long memory, but their thought process is very similar to that of humans.  They are also telepathic and instinctively know when they are going to die.
Sadly elephants are targeted by humans for self-gain.  This type of behavior will become illegal in the not too distant future.
Copyright © Cynthia A. Silk 2023.  All Rights Reserved.