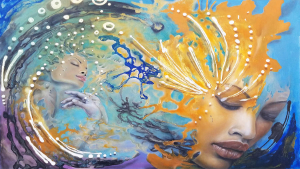 The moment we cross over and leave this life behind we immediately enter the second dimension of this planet where everything looks exactly the same as it does in the third dimension. The second dimension is primarily used as a point of transit for angels to escort people between the first and third dimensions of this planet.
As we enter the second dimension we are accompanied by three of our guardian angels where the most wonderful surprise awaits. While in the process of crossing over our angels secretly transport several of our family members and/or friends from the first dimension to the second dimension so they can be there waiting for us when we arrive. These are the people who were related to us or who were our friends in this life who crossed over before us. The reunion is always an emotionally charged one filled with a mixture of joy, happiness and sorrow for those left behind.
Our first thought is how to let family members and loved ones know that we are alright and free from all pain. So now the roles are reversed as we the people who have crossed over to another dimension find ourselves frantically trying to find a way to make contact with loved ones we have left behind in order to give them much needed comfort and validation that life goes on and that this life is merely an assignment.
For those of us returning to the first dimension of this planet the transit time in the second dimension is usually twenty four hours. For the people whose home is situated in another part of the Universe the transit time in the second dimension is typically two to seven days depending on how quickly transportation can be arranged to their final destination.
Copyright © Cynthia A. Silk 2023.  All Rights Reserved.